For Van Lynn, opportunity knocked at Pitt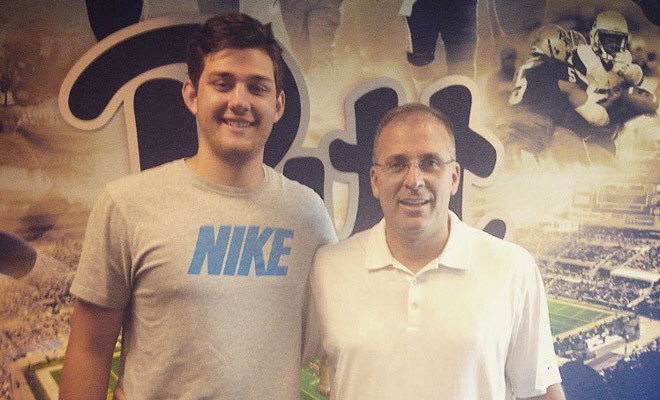 In light of his commitment to Pitt on Wednesday, Carson Van Lynn had one word on his mind:
Opportunity.
That's what he sees in the University of Pittsburgh and in Pat Narduzzi's football program, and that's why he decided to be a Panther.
"I think the school is a very good opportunity for me, academically and athletically," Van Lynn told Panther-Lair.com Wednesday. "I'm from Steubenville, so it's kind of where I'm from and where my roots are, and the opportunities are just great.
"I like the coaching staff, all the coaches, and I like how they recruited me. After going through the whole process, I just felt like Pitt was the best fit."
And Van Lynn had options. Boston College, Indiana, Iowa State, Kentucky, Purdue, Rutgers, Wake Forest, West Virginia, Buffalo, Ohio, Toledo and Western Michigan all offered him. And Pitt was one of the latest schools to offer, giving Van Lynn a scholarship less than a month ago after he worked out at the Panthers' prospect camp on June 5.
But the relative lateness of Pitt's offer was overshadowed by that key element: opportunity.
"I didn't know too much about Pitt until they started recruiting me more heavily, but then I started to visit and I fell in love with it and realized the opportunities that Pitt could offer me that other schools can't."
Among the opportunities that stood out to Van Lynn were the potential internships a student-athlete at Pitt could experience due to the school's location in the city. And on the field, Van Lynn saw exactly the opportunity he wanted.
"They offered me as a defensive end, and that was very intriguing to me," he said. "I like defense a lot. I think I'm more natural at defense and I think that defense is a good position for me.
"I think I'm very athletic in my side-to-side movement and I play low and play tough. I just think I'm more natural on defense. I like stopping people and keeping them from scoring."
Van Lynn, 6'6" 245, worked out with defensive line coach Tom Sims at the prospect camp that led to his offer - and it didn't take long after the camp for that offer to come.
"I liked Coach Sims a lot. He's a great coach and he gives his players respect that they deserve. I like the way he treats his players and he's just a very good coach, a good guy to be around.
"I felt good about my performance at camp and obviously they felt good about it as well. They said they were going to watch the tapes so we left to drive home and about 30 minutes into the car ride, Coach Narduzzi asked me to call him, so I did and he offered me."
That quick turnaround was nearly mirrored on Wednesday when Van Lynn made his first trip back to Pitt since getting the offer.
"When they offered me, they became my top school," he said. "I went to Indiana and camped there and it was between Indiana and Pitt for awhile. But I visited Indiana four times and this was my third time visiting Pitt, and I just felt more at home at Pitt.
"I kind of knew I was going to commit, but once I got on campus and saw everything, it just all came together for me. So I took a tour of the whole place and then my mom and I went into Coach Narduzzi's office and he was talking to us, trying to sell me on Pitt, and I asked him if he would accept me into the 2017 class. He was surprised and excited."
Van Lynn is Pitt's eighth commitment in the 2017 recruiting class. He's the fourth defensive commit, the third recruit from Ohio to pick the Panthers and the first defensive lineman in the class.