Transcript: Pitt AD Barnes on everything
Pitt AD Scott Barnes held his first "Town Hall" meeting with fans Tuesday night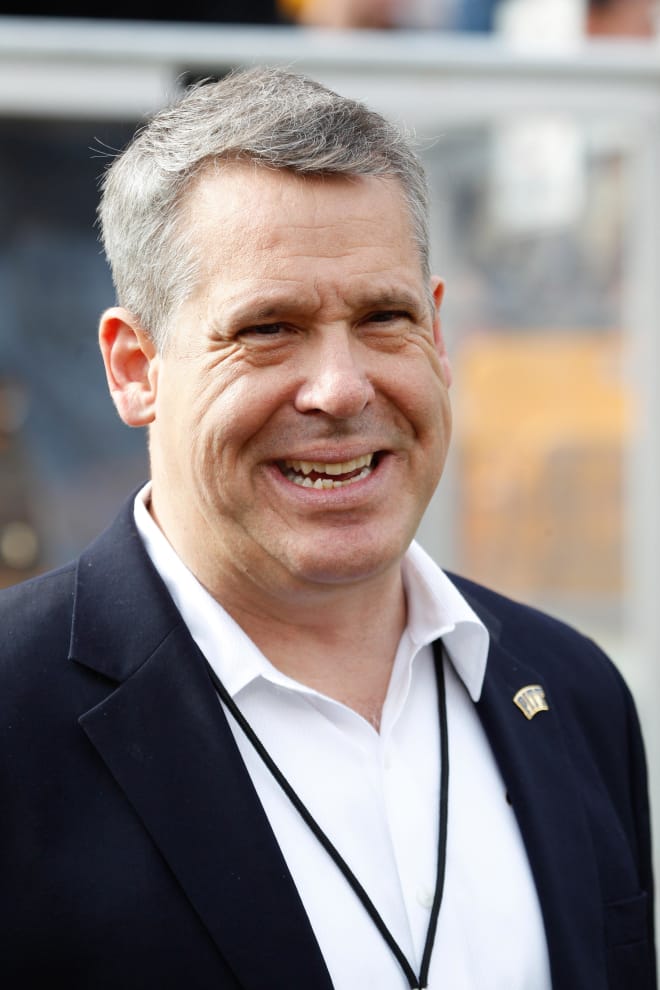 Pitt athletic director Scott Barnes opened the proceedings at Tuesday night's "Town Hall" meeting with fans and alumni with a simple question, one he's been asked often since taking over the same position at Pitt that he held at Utah State: What's the biggest difference between the two?
"More people care here," Barnes told the crowd gathered at Alumni Hall on campus.
He used last month's Military Bowl as a recent example of that very point, then gave the Pitt supporters on hand the reason for the event.
"For me, it's as important to listen to your questions and have dialogue as it is for me to report what's going on," Barnes told the room.
After taking his audience through a thorough PowerPoint presentation detailing the Pitt athletic department's strategic plan - from mission and core values all the way down to the "Pitt Script Transition" - Barnes entertained at least 15 questions, comments and suggestions in a Q & A session lasting about 45 minutes.
On how Pitt can enhance the visibility of its history and tradition at Heinz Field, and how much the Steelers are an obstacle in providing that experience
Great question. It's something that we're working on. First of all, let me tell you that the partnership we have with the Steelers is fantastic. There's give and take to any relationship. We have room to get some of those things done, a lot of those things done, and we're excited about it. One of the reasons that partnership works so well is we just have to be strategic and ask, create a plan, and we're going to get some of those things done. The Great Hall, the logos on the field, there's a lot of things we can work on and we've certainly moved the needle in every aspect you talked about. We're working on that and we have a plan to do that. In essence, how do we make Heinz Field
On providing more food/drink options for the casual fan who isn't in a suite or special part of the stadium
That goes back to how do we make it our own with branding and certain amenities, and that has everything to do with the fan experience. So as we and the fan experience committee get your feedback, you provide that feedback, because there's some things we can do to make that happen.
On if the athletic department is considering adding sports
Not at this time, and I'll tell you why. I think ultimately, what we want to do first is we want to make sure that what we have is operating at a very high level. The gap is wide enough that we want to invest there first. We add another sport now, without investing in what we have, it takes longer to get to the top. Ultimately down the line we will be looking at that. … We've got to invest in what we have at a level that is representative of championships in the ACC.
On the possibility of expanding the ACC Network
ACC television is a work in progress, progress is being made. It's on the horizon. I can't get into the details of where that sits other than to say I think we all feel like progress is being made. It's an interesting topic because what you need is a lot of cuts, cutting back with programming and whatnot, but at the end of the day, an organization like ESPN wants more than anything a chance to generate revenue, and the ACC is a great opportunity to generate revenue. We'll ultimately get there in our TV contract, and I'm confident in that.
On the huge Nike deals for schools like Ohio State, Texas, Michigan and how Pitt can compete with that
Ohio State came after the incredible deal with Texas and then Michigan, those are huge broad-based programs, but there are opportunities. I'll say this, there's other players in the market that are trying to grow the market share and because the other players are trying to grow the market share. Because the other players are trying to grow the market share, they're very aggressive in what they're offering. So as we think about our opportunities down the line, we've got to look at aligning ourselves with a partner that can give us market and beyond the school our size and the league that we're in. I believe that we have every opportunity to do very, very well when we come up to our next contract.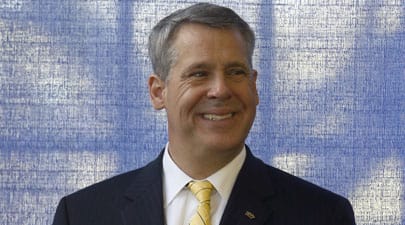 On where Pitt stands with the pay-for-play issue
It's really also a philosophical question, and let me just tell you what's on my heart as it relates to pay for play: There's no room in the collegiate model. Now I'm a product of the collegiate model. Everything I have today and whoever I am is born out of an experience I had as a varsity athlete at Fresno State. I learned communication, discipline, overcoming adversity, understanding time demands, all sorts of aspects. One of the things I want to say, when you think about the talking heads talking about pay for play, what's always lost is the value of not just your scholarship over four years, but your world-class medical care, mentorship programs, academic support, the life skills piece, the value of all that is much higher than just a scholarship. We are providing a great opportunity for the student-athlete in addition now to the full cost of attendance, which is an additional stipend that our student-athletes receive. We've won some battles, generally speaking, not the war, in where this sits right now. Let me put it this way, if at some point in time the world changes and we're paying players, we won't have to worry about it because collegiate athletics as we know it is gone. For us, there's two programs that create revenue: Men's basketball and football. Everything else is an expense. The dynamic of college athletics will change entirely. It would be blown up. We're the only model of its kind in the world. The whole dynamic would change. … We'll see where this whole thing goes. If it truly goes to pay for play, it's a different model and the day is over. We start new. It's a whole new series of events. The NCAA goes away, you have two sports and the rest of them become club sports or intramurals and it's a different deal. It's a really significant issue. We're seeing signs that we're getting some traction in holding on to that. I will be candid with you, we as athletic directors did not step up and make our case on why what I received as a student-athlete and others received as student-athletes was so valuable, and that pay for play is not the model. And we also, I will tell you, we made a mistake not passing this full cost of attendance admission when it was a $2,000 stipend three or four years ago, because that would've probably handled a lot of the naysayers. I'm a firm believer that the value of a scholarship, the stipend, what they receive is incredibly important and if they want something else, they can do that in the semi-pro or pro area.
On the importance of keeping longtime rivalries intact in both football and basketball
Let me hit basketball first, but let me give you a general statement. The general statement that I'm talking to coaches about is 'Hey, intercollegiate athletics was built on rivalries.' That's exciting. Let's play the West Virginias and Penn States in everything - basketball, specifically. We are not alone in the fact that our model right now is very similar to every other power-five model, which is play a bunch of home games and play games that you're going to win and get your RPI points out of your conference because you still build a resume. What's lost in that is that all across the nation - and even as a chair member of the men's basketball committee, we had this same conversation - even the NCAA Tournament started to fall in terms of fan interest. And how do you fuse fan interest? Those rivalries, the old rivalries, the Georgetowns or the Penn States or the West Virginias or just a power-five [school] that has a marquee name, it's how you do some of that. Now let me tell you this, men's basketball, we don't need to blow it up. We don't need to start over. We need to tweak it, and that tweak is a couple marquee games that, quite frankly, might have the same resume as some of the teams we play, but they're just branded much better. You never know, it's a crapshoot, but Jamie and I have had our conversations and there's a window of opportunity even next year and moving forward to do a little more of that. That's our hope, we're looking at that and it's a balanced equation in building that resume and that fan interest. … Football, as you know, we've got a four-year deal with Penn State followed by a four-year deal with West Virginia, a little bit of a gap in between. We'll try to continue those relationships. We want to play them - one or the other - every year, that's our goal.
On the possibility of opening more concession stands at Heinz Field to get fans in and out of lines quicker, and possibly selling alcohol at the concession stands
It's about attendance and yet there's the fan experience. What we need to do, it's a great point, is in between this gap of growing our attendance and providing that fan experience now is get some more of those open. And then obviously, the return on investment comes because our fans are buying more. And then the beer sales piece … I will be perfectly honest that absolutely, it's one of the things that we're looking at. And we're looking at it seriously. That is one component as you think about the wave over the country, there's a lot more programs that are building a plan for that. The ACC athletic directors just voted unanimously to have those beer sales at ACC championships that are hosted off campus. The NCAA is looking at it at its championships, so yes, the answer is we are looking at that.
On making more merchandise available beyond the immediate surrounding areas
In expanding this, looking at analytics, looking where our alumni are, we've got to get beyond the city and into places all over. I think we can do that, I think we have the tools that we've never had in terms of doing that.
On getting more recent alums on board, those who are not far removed from graduation and are still repaying loans, possibly preventing them from purchasing season ticket packages
It's coming, that sort of young alumni connection. And before, what about making sure that you're plugged in while you're on campus, giving you that opportunity to be part of something so that right when you leave, you're already talking about that. We're looking at all that. That's going to be a part of some new initiatives in our annual fund and our programs, so know that that's really important. It's really a struggle for a lot of us across the country to meet you as a fan as far as what your desires are in coming to games, we're all struggling with that. But I will tell you that our student attendance is higher in football, and oh by the way, we got students to stay after Sweet Carolina - most of the time. So we're still working on that, and I really think that my staff, we got with student leadership and worked a plan. But we're all struggling with the very ideas that you're talking about and the best way to remedy that is to get a connection right away even while you're in school and then right when you leave. We're working on a program for that.
On increasing the options for those who want to donate smaller amounts
A little bit of an example is that individual sitting in L.A., who isn't a season ticket holder, but wants to do something, let's give that person an opportunity to do that. Let's provide a great program that allows that person to give something back whether it's 50 bucks or 100 bucks, so we're working on that as well. You can tell, we've got a long list of things we're working on.
On if there has been any consideration to setting up certain spots for alumni groups to tailgate before football games at Heinz Field
A lot of conversation about, particularly, an overview about how do we make the tailgate experience better? Whether somebody wants to tailgate or just have a pregame experience, lot of work to do there. We've got some real challenges in parking fees and how that works, I'm still learning about it, but it's on the table for discussion. It's a work in progress.
On how to first generate the success on the field that will in turn help boost donations and fan interest, in any sport from soccer to football
I think that the general theme is in every sport, and speaking of soccer, [new coach Jay Vidovich] has an unbelievable opportunity to bring incredible talent to Pitt. But generally speaking for all of our programs, here it is in a nutshell: What's our vision? We've already said it, our vision is to win championships at the ACC level and above. How do you get there? Excellent leadership in that sport. What tools? Creating a plan and bringing those resources to those tools. Every program has a different maturation in terms of where they are in the cycle of being able to win a championship. Men's soccer has just not been good for a long time, they haven't won a conference game in five years. So it's going to take longer, but having leadership like Jay Vidovich understanding what it takes to get where we want to go and leaning heavily on the coach to help navigate what that looks like, and then us as facilitators of the resources that we bring to the table to make that happen. That model needs to take place in every sport. In football, it may be different, it's how you schedule in football. It's great leadership and continuity in the coaching staff and who we have. It's facilities development, it's recruiting, a little bit of different nuance, but there's a plan for every sport and we've got to be able to facilitate the resources to make those things happen.
On future football scheduling and general philosophy of scheduling quality opponents but maintaining the desired amount of home games
Some of you may have heard my comments a few months back is that we will no longer play an FBS non-power-five on the road. We're not playing Akron at home and on the road. We're buying. We announced recently that Rice is coming to us. MAC schools, we'll play them at our place, that gives us a chance to get to seven [home games] and not have to return. It's an investment. As an example, Akron home and away, is just you either trade a check of a couple hundred-thousand or you don't pay each other at all. But if you're just bringing Akron, that's a minimum of eight, nine [hundred thousand], maybe a million plus. But we're investing in that, we're going to do that, so that's a piece of it. The philosophy, FCS, I think over time, what is it really about? It's about the fan experience, it's about building a resume conducive to a playoff spot, right? I mean, ultimately, we want to win a national championship. You've got to bring balance to that. There's a little momentum there, you want to get some wins. … The big picture is how do you build a resume worthy of a playoff spot, ultimately, and at the same time have that fan experience that you want by bringing those rivalries in and not killing yourself in the process. You've got an unbelievably onerous schedule in conference, particularly those crossovers when you're playing at Clemson - which happens to be next year - the Florida States, the Notre Dames, so there's a balance in all that, and also this is really tricky because where are you at as a program? Well we won eight games this year, we're not where we need to be in having the horses yet. We're scheduling, there are some windows early but there are some windows out really far, so you're project things, taking all that into consideration. Hard and fast, we're not playing on the road against [non-power-five] FBS opponents anymore. We're considering the FCS piece - we still have some on the books, so we'll play out, but we're considering that. And everything we do is going to be about how does that affect positively the fan experience, how does that affect the resume for playoff, and we're going to take all of that into consideration. Now, end of the day, you don't always get everything you want, but you certainly want to keep those things in focus.
Barnes wrapped things up by saying he appreciates the help from everyone involved, then asked for a "Hail to Pitt" cheer in unison.
"There's a lot of work ahead, without question," he said, "but it's not insurmountable."